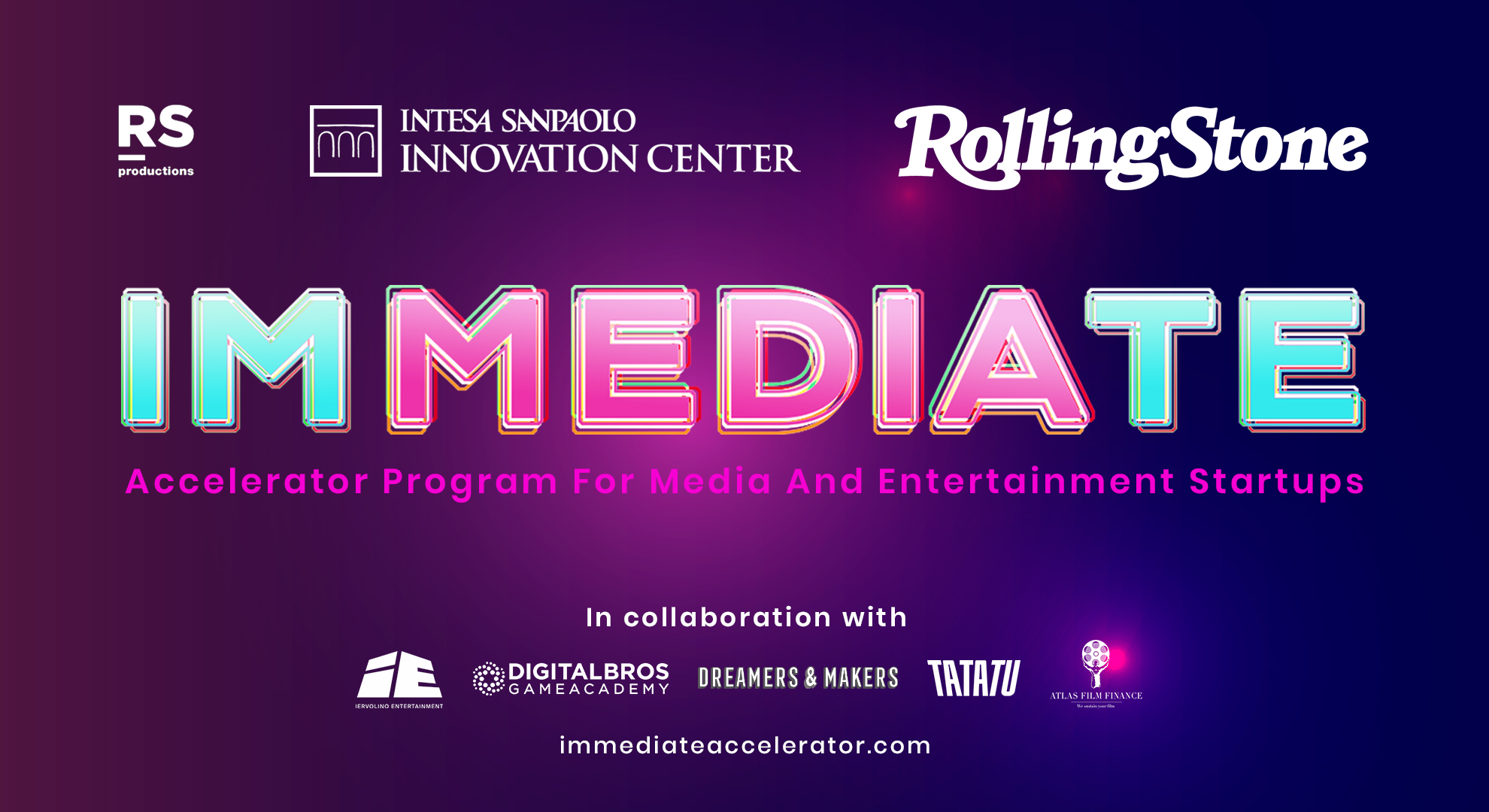 IMMEDIATE, is an open call for projects within the fields of media communications, entertainment and gaming, designed by RS PRODUCTIONS and ROLLING STONE and supported by Intesa Sanpaolo Innovation Center.
The Initiative has the purpose of launching a program of scouting and acceleration addressed to startups and SMEs (already established as companies) and to projects (pre-company-formation), but with a defined Proof of Concept), that offer technologic and business solutions.
The best 20 (up to 25) projects will have access to a unique international acceleration platform, through a rigorous process that ensures high quality of the investment proposals, clarity in the communication of business plans and innovative content for the benefit of potential industrial partners and equity investors.
The winners will be able to access:
· Publication in Rolling Stone online magazine
· Customized advertising campaign
· To the first media and entertainment acceleration program in Europe
· An eventual investment to the value of more than 75keur
Targets
We are looking for Startups, scaleups or teams within the following fields:
· MEDIA: Digital media, Advertising, Social media, New media (both ideas and innovative formats).
· ENTERTAINMENT: Audio-video productions, Video productions, podcasts, etc. (both ideas and innovative formats)
· GAMING: Technologies and Methodologies for Contents Gamification.
Timeline
June 22nd –Call Launch
Sept 15st –Call Deadline
Sept 18th – Communication of the Selected Innovators
Sept 24th – Selected Innovators confirm their participation to the Initiative
Oct 5th-6th – "The World Class" for technology Deployment, a Growth-Stage Entrepreneur Master Class. Selected Innovators will receive two full days of investor alignment and innovation development tools delivered by the program designer, Bill Barber, California serial entrepreneur, business angel, corporate advisor, and architect of the Growth Acceleration programs at ISPIC.
Oct 7th – Nov 6th – One-to-one: Innovators' advisory sessions tutored by selected coaches, to support the definitions of the business plan and the enhancing of the pitch presentation. One to One sessions could take place physically or virtually. Innovators' advisory sessions with Bill Barber will be individually scheduled during The World Class.
Oct 14th – Nov 6th – One-to-RS PRODUCTIONS & ISPIC. During this phase, RS PRODUCTIONS & ISPIC will organize meetings with the Innovators to evaluate and investigate potential fields of cooperation in order to find "early wins" in the deal flow process.
Nov 10th – Deal Line-Up ("DLU"): Innovators will formally pitch in front of a panel of RS PRODUCTIONS management and industry experts, who will provide structured feedback and select the finalists that will continue forward in the Initiative.
Nov 19th – Arena Meeting and Demo Center ("Arena"):the Innovator finalists selected at the DLU will pitch their project to a targeted audience of stakeholders identified by RS PRODUCTIONS.
How to apply
Interested entrepreneurs can apply by cliking HERE no later than Sept 15th.
Required documents:
⃝ Pitch / company presentation, which includes team, commercial strategy, economics or financials and stylistic references
⃝ Demo of the project or Short elevator pitch video (max 90 seconds)
⃝ Business plan of the company / project
For all the details, terms and conditions visit the site https://www.immediateaccelerator.com/