Intesa Sanpaolo Start-up Initiative - Cleantech Early & Growth Stage
Milan, Italy - October 4-5, 2011
CleanTech and Renewable Energies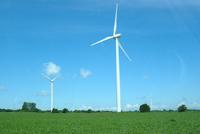 The twelfth national edition of the Intesa Sanpaolo Start-Up Initiative will be entirely dedicated to the CleanTech and renewable energy sector.
The Investor Arena Meeting, organized in cooperation with IBAN, will take place on October 4.
It will be followed on October 5 by a later-stage Arena event for more advanced investment opportunities, developed in collaboration with European Venture Club.
The application window for this event is closed.
To take part as an investor, corporation or observer you can write an email to startup@intesasanpaolo.com
photo © 2008 Patrick Finnegan | more info (via: Wylio)
Selected Start-Ups
Development and production of innovative monitoring and safety systems for photovoltaic panels and solar farms.
It is a concentration photovoltaic system; it brings the high efficiency of the technology from the big solar farms to the small user's need
The machine to make money. Without minting it. And starting from the exhausts.
We make mobile power sources based on fuel cell and lithium batteries to extend in any off-grid contest runtime of electronics.
Novel monitoring and Control system for affordable energy efficiency management in buildings
Our technology makes it possible to harvest offshore wave energy on a large scale per anchored unit in open ocean.
Our unique technology increases the efficiency of solar cells in a cost-efficient way, making solar cells significantly cheaper
An innovative way to install PV modules and is able to reduce costs whilst increasing ease of use of PV modules
Innovative micro wind generator system development, manufacture and distribution.
The proposal aims to realize an innovative printing machine for organic photovoltaic (OPV) modules in order to supply low-cost solar cells.
Our patent pending low-emission Diesel engine technology allows substantial reduction in production cost keeping high engine efficiency.
Hi-Tech Waste: modern mines of precious metals!
An advanced technology Company operating in renewable energy and environmental sciences holding patents on different technologies.
DESIGN AND CONSTRUCTION SMALL SIZE MACHINE FOR CRUSHING AND GRINDING RECYCLABLE MATERIALS (GLASS, PLASTIC, ETC.)
Cloud-based decision support system for energy efficiency: data collection from the field, sophisticated analysis and simple presentation
With our life-cycle management platform, everyone can live and work in modern, ecologically and affordable buildings.
Clean Chemistry Technologies for multiple industrial applications (Energies, Environment and Biotech/Life Sciences).