Intesa Sanpaolo Startup Initiative Fashion & Design 2016
Milan, September 29, 2016
Startup Initiative Fashion & Design Investor Arena Meeting 2016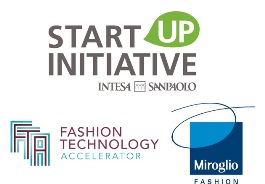 Intesa Sanpaolo, in partnership with Fashion Technology Accelerator and Miroglio Group, presents the upcoming StartUp Initiative / Fashion & Design 2016 that will take place onThursday, September 29 2016 in Milan (Palazzo Besana, Piazza Belgioioso 1), starting 9:00 AM.
This year edition will let you meet the hottest startups with innovative technologies concerning wearable technology (Embedded devices & IoT, New tech advanced materials, etc), retail (Mobile e-commerce, Social & trend analysis through Big Data, Virtual fitting rooms, etc), sustainability (Organic fibers, Recycled garments, 3D printing modelization, etc) and all fields of industrial design.
To RSVP please click here. Morover, to book your 1:1 session with pitching startups click here.
Please find attached a detailed agenda, as well as fact sheets for all pitching startups:

The main language of the event will be English.
In partnership with
Fashion Technology Accelerator is a management consulting firm, providing business acceleration to young enterprises operating in the intersection between the industries of fashion, retail and technology. This particular and strong focus enables FTA to offer tailored advisory, industry-specific services, valuable business development opportunities with potential partners and customers. They are part of an international network with offices in Silicon Valley, Milan and Seoul.
The Miroglio Group is an Italian industrial company operating since 1947 in textiles and in fashion. The Group operates in 34 countriesthrough 49 operating companies and 3 industrial sites. Thanks to the know-how gained throughout history, the skill to acknowledge and anticipate market trends, the investments which are continuously devoted to research and development of new technologies and solutions, for all activity sectors (production, supply chain and logistics), today the Miroglio Group meets the demands of a more and more global and heterogeneous market.